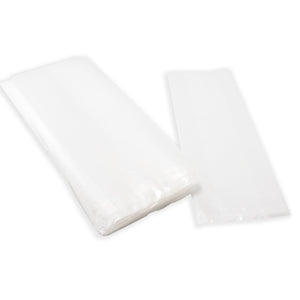 Whether you're bagging bread to give as a gift or preparing vegetables and meat for the freezer, these B & G Clear Poly Plastic Freezer Bags will do the trick! Bags with side folds to expand.
Order twist ties to close the bags here.
Clear Poly Plastic Freezer Bags
Absolutely perfect!
First of all, when your parcel arrived I truly nearly cried with relief that you were legitimate, because the two online purchases I made before that were both fraudulent, including a false tracking number. They charged my credit card and never sent the orders, and they are nowhere to be found, which has made me very leery. I appreciate your honesty, prompt service and fair price. The poly bags are very good quality, and just what I have been looking for! Things were packaged well and I am totally satisfied with the whole order and your company. I will be purchasing from you again.
I bagged the best freezer bags ever,
I appreciate a company that gives Quality at good prices and then is interested in a review. I will be shopping again, Thank You
Great Bags
These bags are excellent for freezing bread and other baked goods, as well as other food items. I also like these bags for storing dry goods like flour or sugar. The bags are very heavy duty. They are good for nonfood storage, also.