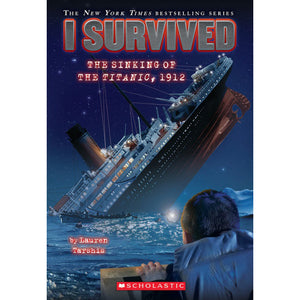 Ten-year-old George Calder and his little sister Phoebe feel so lucky! They get to travel across the ocean on the famous Titanic with their Aunt Daisy. The large ship is full of exciting places to explore. George ventured into the first class storage cabin when suddenly, an incredible boom shakes the whole ship! There is water everywhere, and George has to get out of there!
In the New York Times-bestselling series, I Survived, Lauren Tarshis brings history's most exciting and terrifying events to life.
Series: I Survived (Volume 1)
Author: Lauren Tarshis
Illustrator: Scott Dawson
Format: paperback
Number of Pages: 112
Dimensions: 5.25" x 7.5"
Age Range: 7 - 10
Grades: 2 - 5
Click here for more I Survived books!