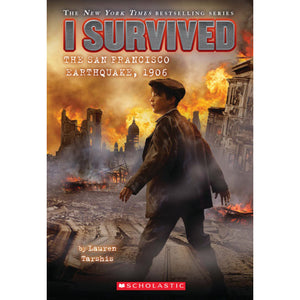 Ten-year-old Leo is a newsboy in San Francisco. He loves that job because he is able to make some money to help out his family while also exploring the beautiful city. The city is growing and changing with the new century. There are shiny new automobiles, new businesses, and lots of people moving in every day.
One spring morning, everything shifted, quite literally. Leo finds himself stranded in the middle of San Francisco as it crumbles and burns to the ground. Will Leo be able to survive this devastating earthquake?
In the New York Times-bestselling series, I Survived, Lauren Tarshis brings history's most exciting and terrifying events to life.
Series: I Survived (Volume 5)
Author: Lauren Tarshis
Illustrator: Scott Dawson
Format: paperback
Number of Pages: 112
Dimensions: 5.25" x 7.5"
Age Range: 7 - 10
Grades: 2 - 5
Click here for more I Survived books!