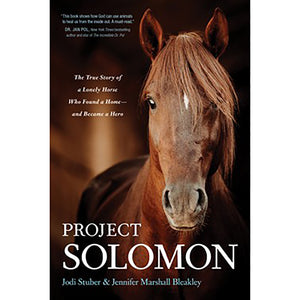 Solomon lost his herd, leaving him solitary and sad, spending his days standing near a plastic deer for company. Jodi Stuber, who was dealing with loss and heartache herself, knew she had to give Solomon a home at her therapy ranch.
Jodi developed a deep bond with Solomon as they navigated their grief together. However, a sudden tragedy struck the ranch. Solomon was about to teach Jodi the greatest lesson of all.
Project Solomon is an incredible story of love and resilience, a powerful reminder of how much God loves us.
Project Solomon: The True Story of a Lonely Horse Who Found a Home--and Became a Hero
Author: Jodi Stuber and Jennifer Marshall Bleakley
Publication Date: May 17, 2022
Format: softcover
Dimensions: 5.5 x 8.25 inches
Number of Pages: 304