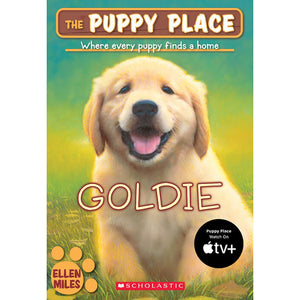 Charles and Lizzie Peterson would absolutely love to have a puppy of their own, but puppies require a lot of responsibility. Their mom doesn't think their family is ready for a puppy yet.
Goldie, a sweet Golden Retriever puppy, needs a home. She is not trained and doesn't know how to be a good puppy yet. Can Charles and Lizzie help her?
Series: The Puppy Place (volume 1)
Author: Ellen Miles
Format: paperback
Number of Pages: 80
Dimensions: 5.25" x 7.75"
Age Range: 7 - 10
Click here for more books from The Puppy Place!