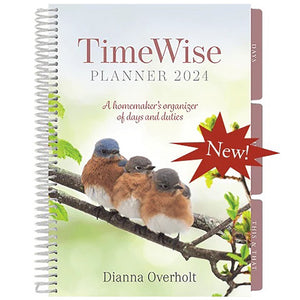 TimeWise Planner 2024 has a compact design with easy-to-use formats to help you plan, organize, and record. Perfect for mothers and wives with busy schedules.
TimeWise Planner 2024: A Homemaker's Organizer of Days and Duties
Author: Dianna Overholt
Format: spiralbound
Dimensions: 6" x 9"
Publication Date: March 2023
Best Planner
This is the best planner I've ever found. I love the arrangement, plenty of space, and layout. Thanks for helping me with my organization!