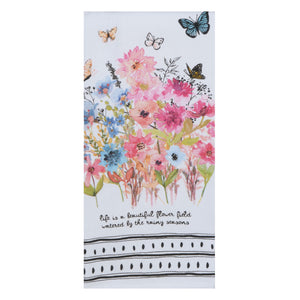 Let the kitchen burst into bloom with this Wrapped In Grace Flower Field Dual Purpose Terry Towel R7260! Add beauty to your kitchen space by keeping this tea towel handy for drying dishes and other kitchen tasks. Features a 2-in-1 functionality with a flat weave front for drying glassware and an absorbent terry back for everyday tasks.
16" x 26"
100% cotton
Flat weave front, terry cloth back
Browse other kitchen linens in the Wrapped In Grace Collection.