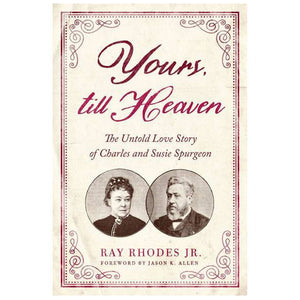 Charles Spurgeon is well-known and respected for his writing, preaching, and passion for the Lord. Behind the great man was his great wife, and between the man and wife was a wonderful marriage.
Yours, till Heaven tells the untold love story of Charles and Susie Spurgeon. Readers will discover how their bond helped to fuel their lifelong service to the Lord. They made it through earthly trials of loneliness, physical affliction, popularity and controversy with a heavenly vision. This couple serves as an example for us today for how marriages can remain faithful, loving, and joyful despite the challenges that life will throw at us.
Yours, till Heaven: The Untold Love Story of Charles and Susie Spurgeon
Author: Ray Rhodes Jr.
Format: paperback
Publication Date: February 2, 2021
Dimensions: 6" x 9"